One of the most asked questions I get is, what do you do with a yarn advent calendar? Happily, the options are (almost) endless! If you choose a 20g sock weight calendar from Needle & Fred you'll have 2016m to work with. Or you could hold this double for a DK project! The actual DK 20g advent has 1080m in total.
You can open every day and use the yarn right away (if you're a more organised knitter than me!). Alternatively, you can wait until you've unwrapped all 24 bundles of squishy joy if you want to colour manage a specific project. This is how I personally prefer to use an advent calendar, but I'm quite Type A!
Project ideas
Blankets – adding a row or a square to a blanket is probably the easiest advent project
Socks – scrappy socks for the win! Bonus points for knitting in your ends as you go
Shawls – easily work stripes into lots of patterns
Sweaters – depending on your yardage requirements
Keep reading if you're after some specific pattern recommendations to work well with advent minis.
*Please note, at the time of writing Ravelry has implemented a website update that is causing issues for some users. I have marked all links that lead to Ravelry so you can avoid if needed. If you are using Chrome you can install a dark mode browser extension here.
Alternating minis with a neutral main skein
Some of my favourite advent projects that I've seen alternate the advent minis with a main skein (normally a neutral). This can help separate the colour chunks and tone down the overall look. It can also help to increase the yardage you're working with, allowing larger projects.
You don't need to have specific pattern that stripes colour like this. Shawls especially lend themselves to you adding in your own colour changes.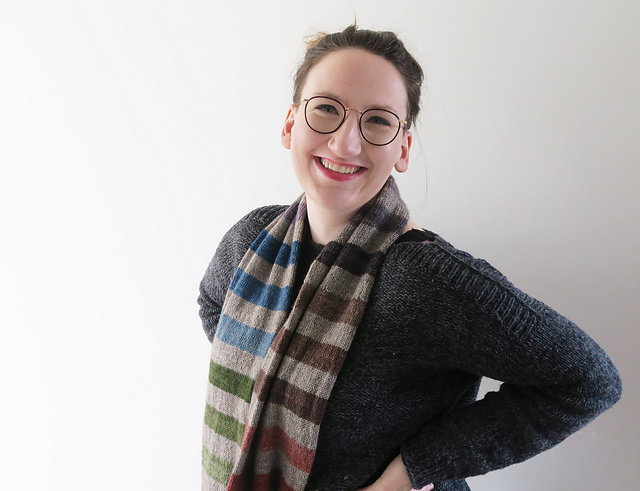 Litmus cowl by AmyFlorence
Fade projects
Needle & Fred advents aren't dyed up as fades however I'll be adding in a little cheat sheet if you want to open them in a fade order instead 🧡 of course if you wait to open them all up before starting a project you can create your own fade as well.
Le Pouf cardigan by Hedgehog Fibres
Also available in a sweater version, this is a lovely free pattern, which is perfect for fades. It holds sock weight yarn double, which means the fade is more of a blended effect than striping rows. It also means you're working at DK gauge, so knits up nice and quickly.
Dotted Rays by Stephen West
A fabulous example of how you can take a pattern and add your own fade onto it. Most fades simply stripe yarns for approximately 10 rows to fade the colours together, there's no real secret to it.
Blankets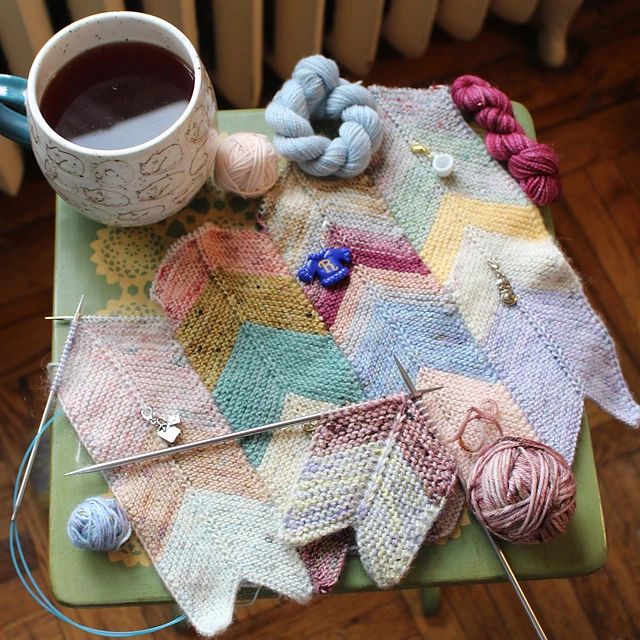 Northeasterly blanket by Skeinanigans
A wonderfully modular pattern, you can make this as big or small as you like. Plus if you have slightly less yarn in some minis you can make each chevron a different number of rows. I have a DK version on the needles, holding my 4 ply minis double!
Link: Granny Stripe blanket Attic24 tutorial
Ideal for scraps where you might not always have enough for a full square, the granny stripe is ideal, as you can change colour mid row if you want. Or colour manage and do a stripe with each advent mini.
Advent patterns!
Catvent Cowl by An Caitin Beag
Specifically designed for advent kits, the Catvent cowl has 24 sections of delightfully texture and colourwork explorations. You'll also spot the sneaky rows of kitties, so I had to include it didn't I 😻
Habitation Throw by Helen Stewart
Scrappy Socks
Sprocket Socks by Megan Nodecker (Pip & Pin)
Not strictly an advent project but you could choose your favourites to use with this easy but fun multi colour sock pattern.
Bits and bobs
Cute tiny things to make, just because!
Holiday Sweater Ornament by Amy Munson
Cat in a Box by Mochimochi Land
Links: Ravelry
Feeling inspired?
The final 2020 spots for Needle & Fred's advent calendar go live on Sunday July 5th at 8pm BST so set your alarms!